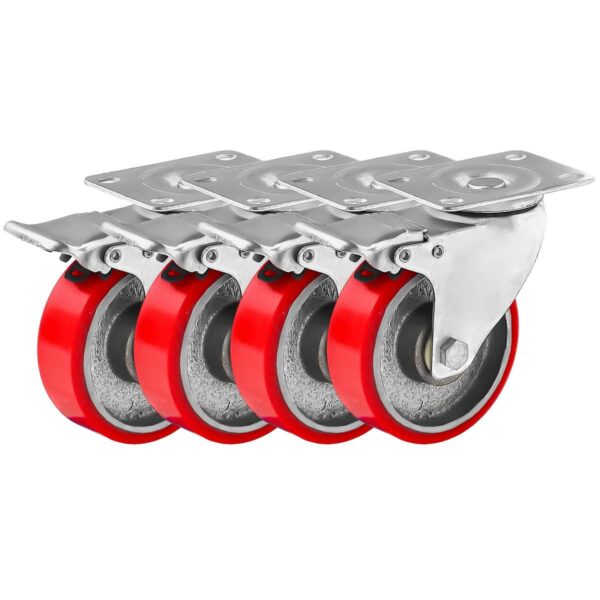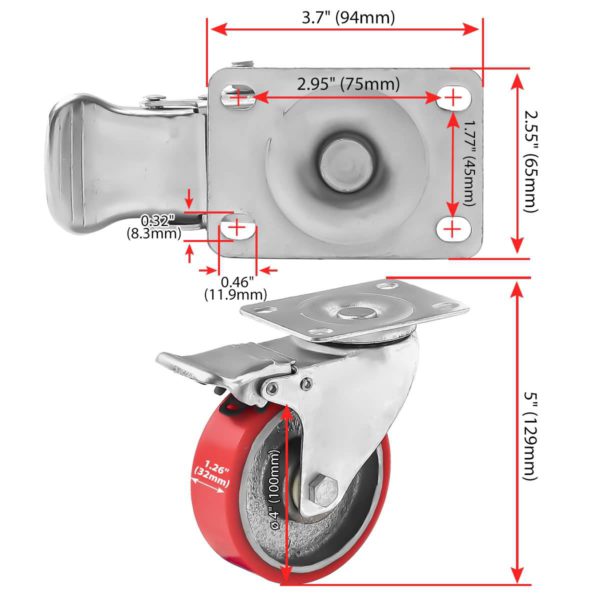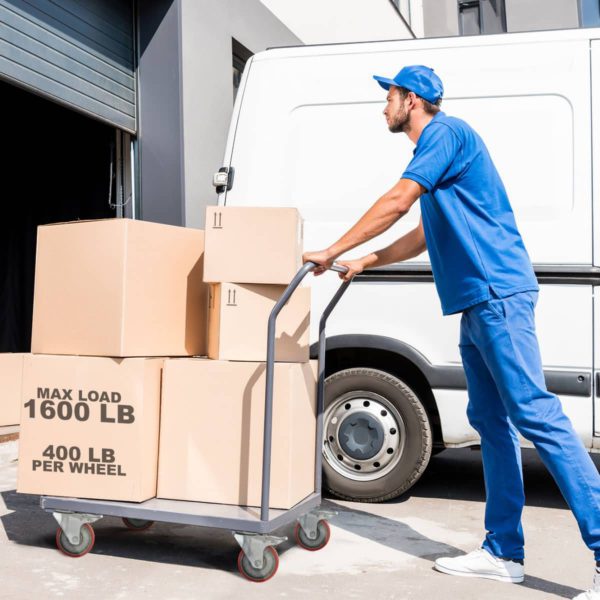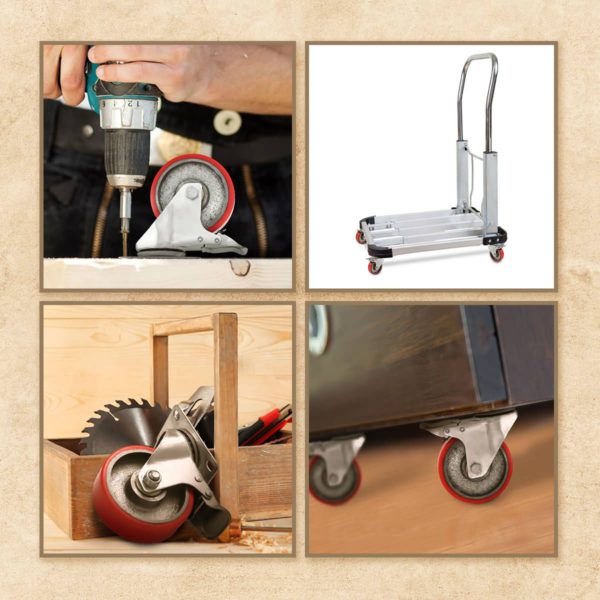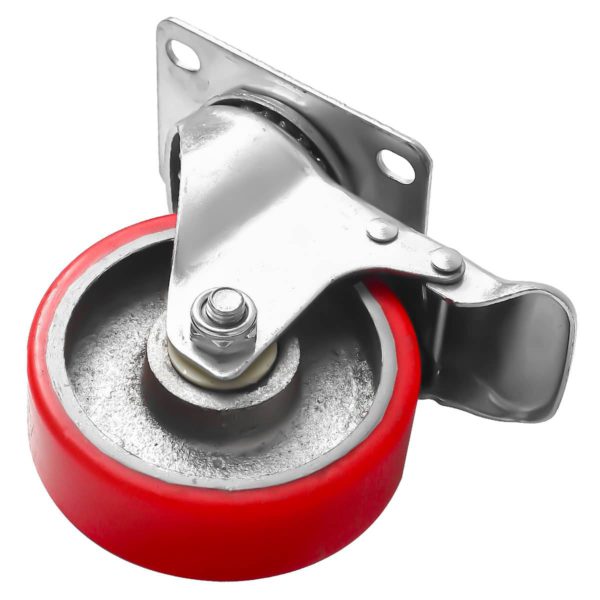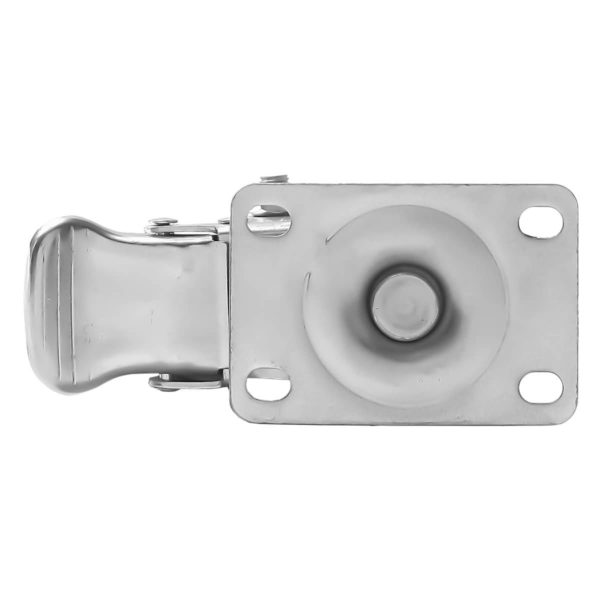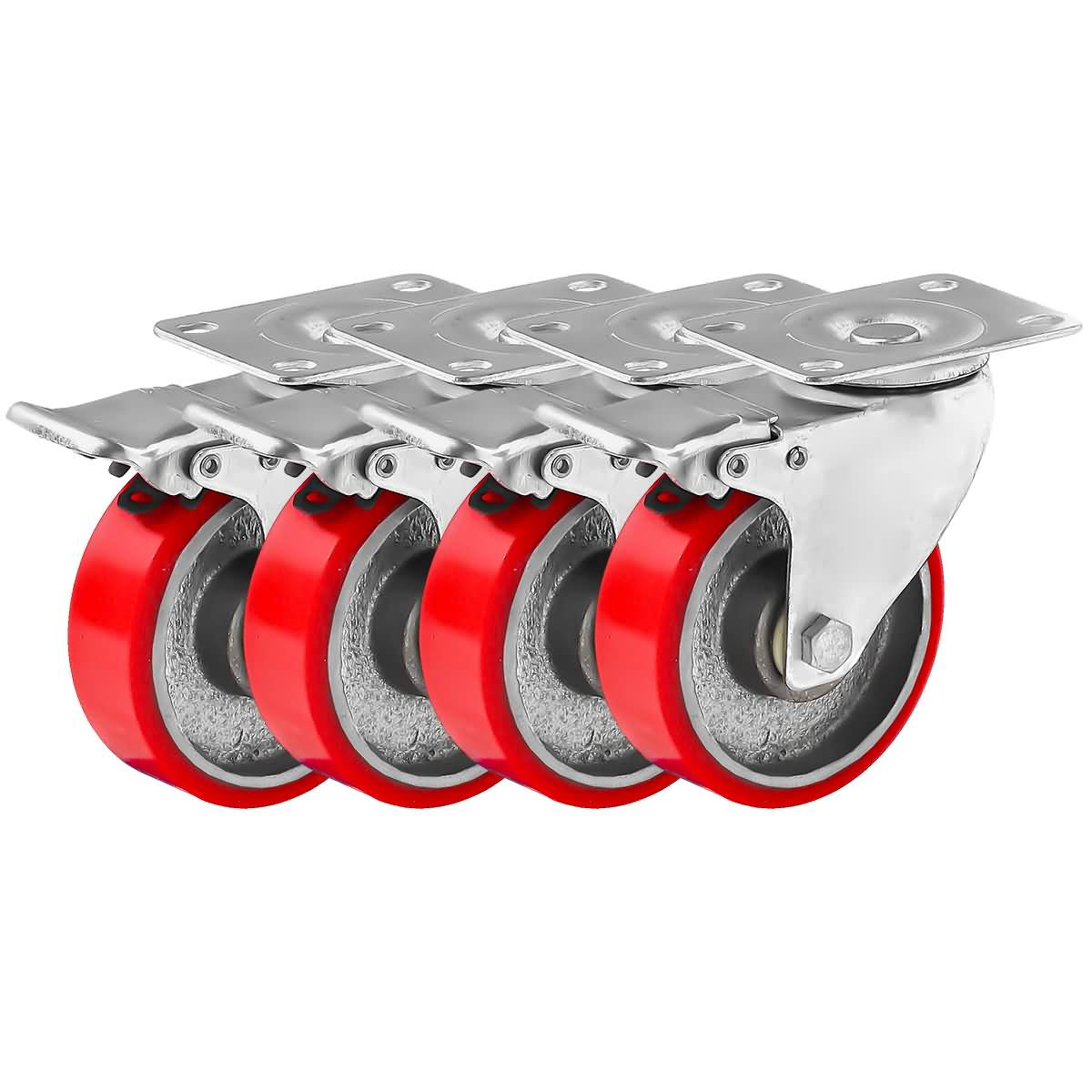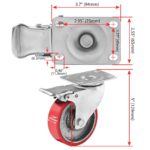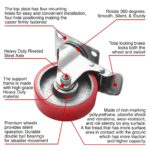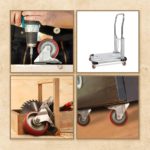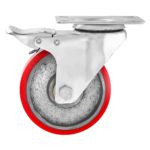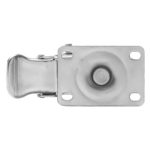 4 Pack 4 inch Red PU Swivel Polyurethane on Cast Iron Wheel Caster With Brake
$32.99
Email when stock available
Description
Additional information
Reviews (0)
Description
ROTATE 360 DEGREES: Smooth and Silent and Sturdy. The top plate equipped with premium steel balls, can rotate 360 degrees swiftly and smoothly with ease, easy to flexibly transform directions.
DUAL LOCKING BRAKE: Total locking brake locks both the wheel and the swivel. Quality brake activates and releases easily with a push down from your foot.
PLATE SIZE: 2.55″ (65mm) x 3.7″ (94mm). Hole Center To Hole Center: 1.77″ (45mm) x 2.95″ (75mm). Mounting hole dimensions: 0.32″ (8.3mm) x 0.46″ (11.9mm). Overall Height: 5″ (129mm). Ball bearings: Double ball bearings.
CASTER SIZE: Caster Wheel Diameter: 4″ (100mm). Caster Wheel Width: 1.26″ (32mm). Caster Wheel Material: Polyurethane. Caster Wheel Color: Red.
POLYURETHANE WHEELS: Made of the popular non-marking polyurethane, absorbs shock and vibrations, wear-resistant and roll silently on any surface.
400 LBS CAPACITY: Each caster can load capacity up to 400 lbs. Double ball bearings can offer maximum rolling ease and requires less effort to start rolling and keep rolling. A flat tread has more surface area in contact with the ground than does a round tread and therefore has more traction and higher capacity.
EASY TO INSTALL: The top plate has four mounting holes for easy and convenient installation, four hole positioning make the caster firmly fasten objects, not easy to fall off.
SPECIFICATION
Dual Locking Brake
Rotate 360 degrees
Smooth and Silent and Sturdy
Capacity: 400lbs each caster wheel
Plate Size: 2.55″ (65mm) x 3.7″ (94mm)
Hole Center To Hole Center: 1.77″ (45mm) x 2.95″ (75mm)
Mounting hole dimensions: 0.32″ (8.3mm) x 0.46″ (11.9mm)
Overall Height: 5″ (129mm)
Caster Wheel Diameter: 4″ (100mm)
Caster Wheel Width: 1.26″ (32mm)
Caster Wheel Type: FLAT Wheel Polyurethane on Cast Iron Wheels
Caster Wheel Material: Polyurethane
Caster Wheel Color: Red
Ball bearings: Double ball bearings
Additional information
| | |
| --- | --- |
| Color | |
| Size | |
| Caster Type | |
| Load Capacity | |